Celebrating our 150th Anniversary
Anniversary Sweepstakes Winner
November 6, 2019

September
Congratulations to Shaun C., the final winner of our 150th Anniversary monthly Sweepstakes. Ashley M. was on hand to congratulate Shaun when he stopped by our Lee branch to collect his winnings.

August
Congratulations to Ann K. on becoming our August Anniversary Sweepstakes winner! She stopped by the Lanesboro office to collect her winnings and posed for a quick photo.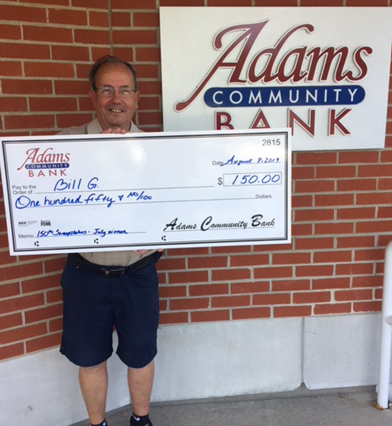 July Winner
Bill G. was our lucky July winner for our 150th Anniversary Sweepstakes. He filled out his lucky ticket at our Park Street Branch, where he also stopped in to collect his winnings.

June Winner
A HUGE congratulations to Sharon L. our 150th Anniversary winner for the month of June.
Courtney and honorary Cheshire branch employee, Emmerich the Duck, were on hand to present Sharon with her winnings.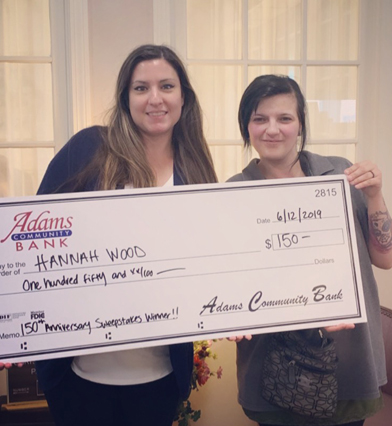 May Winner
Hannah W., the lucky winner of our May 150th Anniversary Sweepstakes cast her entry at our Williamstown branch.
Laila was on hand to say "congrats" and present her with the winnings.

April Winner
Congratulations to Carol R. on becoming our April Anniversary Sweepstakes winner.
Jake presents Carol with her $150 winnings at our Lenox Branch.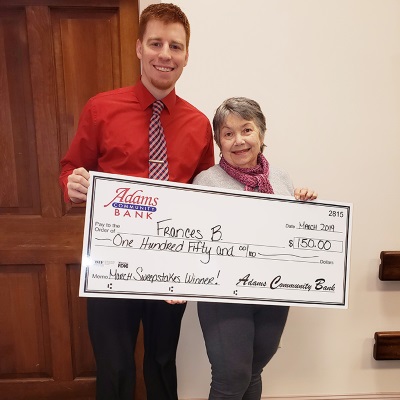 March Winner
Congratulations to Francis B., she's
the lucky winner of the $150 in our
monthly Anniversary Sweepstakes.
Francis stopped by our North Adams branch
to collect her winnings and take a snapshot with Jon.
February Winner
Donna P. was the lucky winner at our Lanesboro Branch for the month of March drawing. Congratulations, Donna!

January Winner
Congratulations to Pam G., winner
of January's $150 for the Anniversary
Sweepstakes.
A drawing will be held monthly
throughout 2019 so make sure to
stop by any branch and fill out an
entry form.
---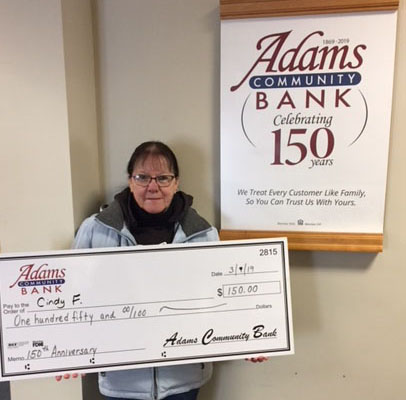 Thunderfest Winner
Congratulations to Cindy F. for winning $150
at Thunderfest in our Anniversary Sweepstakes.
What a great way to top off a fun time spent
enjoying the warm weather and festivities
---
Anniversary Sweepstakes Monthly Giveaway
Tuesday, January 22, 2019
To Enter:
Simply see an ACB team member for an entry form.
Fill out the form with your name and preferred method of contact and
drop the form into the box.
Eligibility:
All persons 18 years or older may participate. No purchase necessary. Limit one entry per day. Employees and immediate family members will not be eligible for this monthly sweepstakes.
Winner Selection:
Each month, all entries received in the branches will be combined and ONE winner will be randomly drawn.
Winners will be notified as instructed on entry form (phone or email) within the first week of the following month.
Winners must pick up winnings in person at one of our branches.
Please note:
By participating in this FREE sweepstakes, winners agree that Adams Community Bank may publicize their name and/or photo on our website, social media and in our lobbies.
---